Our Home
We live outside of Collins, Iowa on 2.5 acres. We have a lovely but small kennel building with 3 indoor/outdoor kennel runs so the dogs have somewhere safe to stay when we are not home. Our building has a heated concrete floor both inside and out and is airconditioned in the summer. The dogs use dog doors so they have the choice of being outside or in at any given time.


Our backyard is one huge hill. It is great for sledding and playing fetch with the dogs. Our finished basement is set up to be puppy and dog proof. We have special flooring and a walk out basement making it easy to let the dogs in and out.
---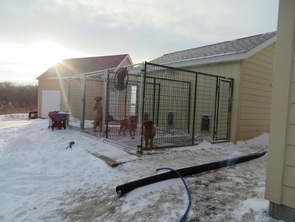 This is our little kennel building. We have designed several buildings before, we knew exactly what we wanted and needed in this building. We have just 3 runs and keep 1 to 2 dogs in each run when we are not home. They have 5 x 10 feet outside and 5 x 5 feet in 2 kennels, and a puppy whelping kennel inside that is 5 X 10. Our puppies learn to use the doggie door, weather permitting at 6 weeks old. By the time they go home at 8 weeks old, most of them are at least partially house trained.
---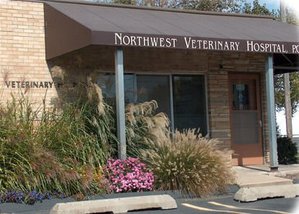 Dr. Pam and Rod own Northwest Veterinary Hospital in Urbandale, Iowa. This is our home away from home. We love our business and the clients and patients that come there. You can find us on the internet here:
Northwest Veterinary Hospital
---
Please enjoy the slideshow of views from and of our home: